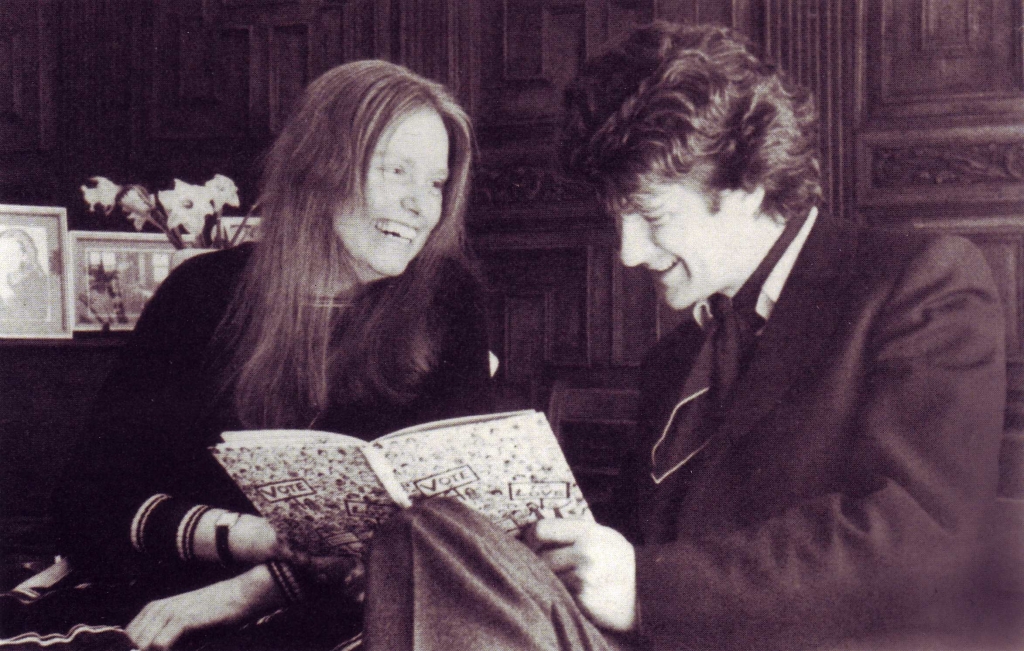 This photo was taken in 1980 when I was helping Jacqueline du Pre to select poems for the radio programme "With Great Pleasure". Her MS was diagnosed in 1973 and her playing career came to an abrupt halt at the end of that year, having lasted barely more than a decade. Yet in those ten years, during which she had also taken time out to go to Moscow to study with Rostropovich, she had captivated the classical music world with her stunning musicianship and personality.
As the illness progressed ,( she had the kind that is unremitting) friends tried to help her with "non-musical" projects. One of the most successful was preparing for this programme. An actress friend of mine, Penelope Lee, ran a small Festival in the village of Upottery near Honiton, and the programme was recorded there with Penelope and John Carson doing the readings. Jackie did some herself, but by then her eyesight was deteriorating and the poems had to be printed in large type so that she could read them.
In fact she had such a good memory that by the time we got to the programme she knew virtually all the poems by heart, having read them many times over in the preceding months. She had a wonderful sense of humour, and the problem for her was that during her own readings she would collapse in helpless giggles. She managed, but only by the skin of her teeth, not to corpse during the recording.
Being with her in those last years was both harrowing and incredibly touching. To see someone of such beauty and talent disintegrating leaves many poignant memories. But I was lucky to share wonderful times with her.
She had been an incredibly inspiring influence on me (and on a whole generation of young cellists), but having also studied under Rostropovich ( Slava) in Moscow, and having known her since she was nineteen, we had some common ground. She used to come to supper occasionally at my house in Queens Park, and the sight of her chauffeur-driven car arriving at my house always gave all the neighbours something to talk about. I got quite good at getting her in and out of the car into her wheelchair, though it wasn't easy. She once ended up in the gutter outside The Coliseum when Lord Harewood was trying to do the same thing.
I also escorted her to Prince Charles' wedding, as Daniel Barenboim was not able to go with her. She loved to embarrass people, and half way through the service she said to me in a loud whisper " I cant see. I want to go down to the front of the church." She wasn't easily deflected from her goal, and of course caused quite a stir in the process.
She struggled to keep communicating even as speech became difficult for her, and her friends were her lifeline in her diminishing world. Her nurse, Ruth-Ann, tried to make sure that every night she would have someone to share some time with her. She also listened over and over again to her own recordings. It was as though she needed to be reminded of her own potency in the face of her helplessness. And in spite of the fact that the illness lasted for fourteen or so years, the dominant memory of her is of her radiance and her joyous music making.
I saw her both the day before she died and the day after. The sense of release, and relief that her suffering was over will never leave me. She did not go gently into "that good night".