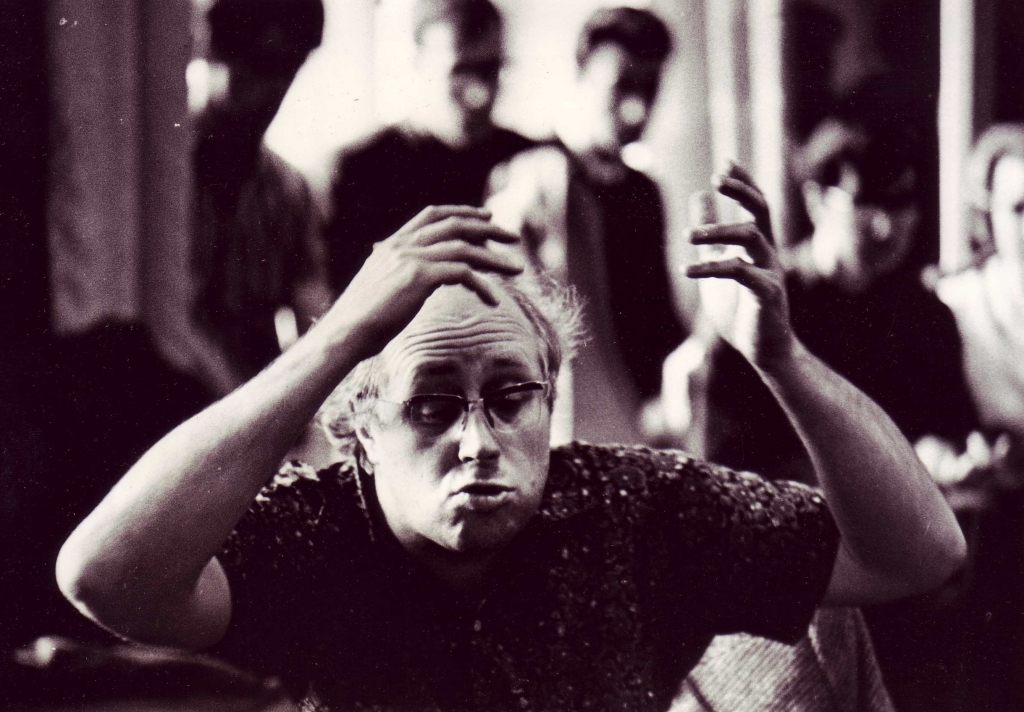 MSTISLAV ROSTROPOVICH
1927 - 2007
---
Moscow in 1969 was a very intoxicating place to be.
There was a sense of danger in the air which gave life a vibrancy quite unlike anything I had experienced before. I had just spent three years at York University, which had rapidly emerged as one of the new wave of British universities espousing the relaxed laissez-faire culture of the sixties. If not quite in the "honey still for tea" era, there was a new sense of cosiness associated with the rice-and-sandals brigade and the trendy lecturers who might themselves be indistinguishable from their long-haired students. Seargent Pepper was the order of the day and girls with flowers braided into their hair would try to embrace policemen on CND marches.
But in Russia the cold war was at its height. Not so long before that, Kim Philby ( who I later saw at a concert ) had defected to Russia, spies were constantly being arrested, businessmen compromised, and everyone was aware that "Big Brother" was never very far away. It was the time of growing dissident voices, both in the arts and sciences, and the authorities were determined to stamp out any "un- Soviet" activities. At the same time Russia was pulling out all the stops in its attempts to demonstrate its superiority in culture, sport and science.
So it was against this background of public achievement and private dissent that I arrived in September 1969 to pursue my studies under Rostropovich at the Moscow Conservatoire. The story of how I got there was like a fairy tale. While at York I had been lucky enough to have been heard by Benjamin Britten, who arranged an audition at the following Aldeburgh Festival with Rostropovich. Then followed an invitation from Rostropovich to go to Moscow. Everything seemed to happen outwith my bidding, but such were the hurdles to be negotiated along the way, I scarcely ever believed I would get there till the day I set foot in the Conservatoire.
To say that Rostropovich had been my cellistic idol for some years, would probably be to understate the case. Ever since he had first started to come to Britain in the early sixties, and burst onto the international music scene with an energy and dynamism which has since become legendary, I was fascinated by his astounding mastery of the cello. We have been fortunate to live in the era of recorded sound, so I was able to hear and know his playing before I actually heard him live, and like a small number of other performers, Rostropovich always possessed a unique sound, instantly recognisable.
It was this sound that first grabbed me, and propelled me on a path to hear him as often as I could. I was extrememly fortunate to grow up in Edinburgh, which, as home to the annual Festival, also provided a platform for many of those performances. The 1962 Festival in particular, under the aegis of Lord Harewood, was a feast of Russian music and musicians, presenting, in the space of two hectic weeks, concerts by a galaxy of the greatest living Russian musicians, including Shostakovich, Richter, Oistrakh, Rostropovich, Visnevskaya, Rozhdestvensky and the Borodin Quartet. And it was then that for the first time I heard Rostropovich live, playing the First Shostakovich Cello Concerto, with Lorin Maazel and the LSO.
Little did I know then (aged 15 ) that my path in years to come was to bring me into much closer contact with both Rostropovich and the LSO !
But for the time being this bear of a man with an almost unpronouncable name became synonymous with anything to do with the cello, and until people had actually heard him, they could not imagine the astonishing virtuosity combined with range of colour and timbre that he could bring to the traditionally soulful member of the string family.It was as though no-one before him had discovered the intensity that could be wrung from the cello.Where before the cello was regarded as a heroic protagonist or a noble singer of sad songs, to this, Slava, as he came to be known, added other possibilities which irrevocably changed the face of cello playing.
But for the moment I admired from afar, happy with the inspiration which the memory of his unforgettable performances left behind. And it was not until the chance meeting with Britten five years later that I found myself propelled in an altogether different direction, winging my way to Moscow and two years of study under the maestro.
Though adequately prepared by vicarious accounts from others who had been there before me ( including Jacqueline du Pré who had gone there in 1966 for six months study, and Lza Wilson, who later wrote authoritative biographies of both Slava and Du Pré ), nothing could quite prepare one for the totality of the experience. Dealing with the musical task in hand was one thing, but coping with the vagaries of life as a student in Soviet Russia was another! I would never trade the experience, both comical and Kafkaesque, that some quite ordinary day-to-day situations used to provoke.
Indeed, from the moment I arrived in Moscow after a night train journey from Leningrad, I began to realise that I might as well have been on a different planet, never mind country, from my comfortable easy-going life back in Britain.
I was met at the door of the hostel where I was to live for two years by the stony-faced commandant, a lady whose demeanor would have equipped her admirably as a guard in Prisoner Cell Block H. I dare say I didn't endear myself to her by arriving at seven o'clock in the morning, but, even in spite of the fact that I was burdened with two suitcases, a trunk, a cello, and a woefully inadequate command of the Russian language, she was unmoved by my entreaties to be allowed to enter her hostel. That I had just travelled some two and a half thousand miles to get there also didnt impress her. In fact nothing did, because I was apparently missing some vital piece of paper, without which she was reluctant to give me the benefit of the doubt.
My diet on Day One consisted largely of bread and ice-cream ( which, coincidentally remained, throughout the duration of my stay, two of my favourite Russian foods!) as it was relatively easy to buy these without the use of language, from, in the latter case, street vendors. Otherwise food shops demanded the use of a basic knowledge of Russian to negotiate with a cashier for the items that you wished to buy at another, often distant, counter. Trying to pay at the food counter itself would unleash a torrent of invective along the lines of ( I imagine) " Idiot! Go and pay the cashier first for what you want and dont come here trying to give me money!", or words to that effect.
Everyday life was hard, and it did take some getting used to, but above all it had a gritty vitality which seemed to me, and still does, uniquely of its time and place.
All of this was in sharp contrast to the atmosphere in the Conservatoire, which at that time was enjoying a Golden period in its history. The great teachers in those years included, apart from Rostropovich, Oistrakh, Kogan, and Neuhaus (mentor of Richter and Radu Lupu amongst others ). as well as luminaries lesser known in the West, such as the great violin professor, Yankalevich. At the same time amongst the students there was a crop of rising stars whose names are now bywords on the international circuit - the string players Kremer, Maisky, Gutman, and Bashmet, and many pianists too.
Slava's classes were an unfogettable experience, often attended by many other students and professors ( you might find yourself playing to an audience including Oistrakh or Gilels!). Both Moscow and Leningrad's great Conservatoires were steeped in tradition, going back to their foundation in the 1860's, and Slava himself says that what he handed on came in a direct line from Carl Davidoff who was the first great Cello Professor in St Petersburg. But Slava's own style of teaching was incredibly spontaneous, owing little to the formality of some of the "old-style" professors. His classes were a unique mixture of serious work and endless stories, jokes, and tales of his travels.
Sometimes we would get a call at 7.30am to say that there would be a class that day at nine in the morning. All the students would rush in to the Conservatoire to find that Slava had already been waiting for half an hour. On other occasions the expected class wouldn't materialize for twenty four hours, and we had all spent the day on tenterhooks not knowing whether to risk going home to practice or to hang about. And when the classes began they would often last all day with little or no break leaving everyone (except Slava! ) drained at the end of the day.
Nothing escaped him in what we were doing, and he was relentless in pushing us to seek always for greater expression in our playing, from the moment the bow touched the string. I remember very well a lesson with Mischa Maisky when at least ten minutes focussed on how to coax the very first note of the piece into life from silence. He very rarely played the cello in those classes, preferring to sit at a second grand piano ( the first taken by the class accompanist), from which he would demonstrate the point he wanted to make. I remember only two occasions in the course of the two years when he picked up a cello in the class, and one of those was to imitate a rather well-known colleague of his!
To have to sit down in front of this genius and play the same pieces that we might have heard him play, was never easy, but once the struggle to overcome nerves was overcome, we were led on a journey of discovery of ourselves in the presence of a mind and heart of rare vision and imagination. Amongst the students there was a tremendous sense of a burning commitment to what we we doing, spurred on by the high-octane energy that poured from Slava. I think we were all very aware of the privilege that we shared being in his class.
Those two years gave me the most intense, difficult, and inspiring experience I could ever have hoped to have, and were, in every sense, life-changing.
Twenty years later, to be able to work with Slava and the LSO as a colleague was a very special pleasure for me.